As we've mentioned, firewalls are a very effective type of network security. This section briefly describes what Internet firewalls can do for your overall site security. Chapter 4, Firewall Design describes the various types of firewalls in use today, and the other chapters in Part II describe the details of building those firewalls.
In building construction, a firewall is designed to keep a fire from spreading from one part of the building to another. In theory, an Internet firewall serves a similar purpose: it prevents the dangers of the Internet from spreading to your internal network. In practice, an Internet firewall is more like a moat of a medieval castle than a firewall in a modern building. It serves multiple purposes:
It restricts people to entering at a carefully controlled point.

It prevents attackers from getting close to your other defenses.

It restricts people to leaving at a carefully controlled point.
An Internet firewall is most often installed at the point where your protected internal network connects to the Internet, as shown in Figure 1.1.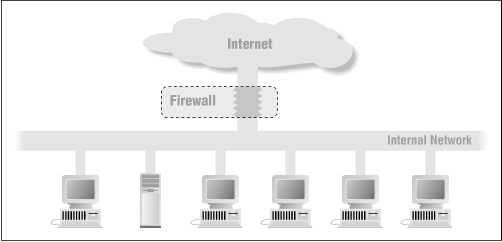 All traffic coming from the Internet or going out from your internal network passes through the firewall. Because it does, the firewall has the opportunity to make sure that this traffic is acceptable.
What does "acceptable" mean to the firewall? It means that whatever is being done - email, file transfers, remote logins, or any kinds of specific interactions between specific systems - conforms to the security policy of the site. Security policies are different for every site; some are highly restrictive and others fairly open, as we'll discuss in Chapter 11.
Logically, a firewall is a separator, a restricter, an analyzer. The physical implementation of the firewall varies from site to site. Most often, a firewall is a set of hardware components - a router, a host computer, or some combination of routers, computers, and networks with appropriate software. There are various ways to configure this equipment; the configuration will depend upon a site's particular security policy, budget, and overall operations.
A firewall is very rarely a single physical object, although some of the newest commercial products attempt to put everything into the same box. Usually, a firewall has multiple parts, and some of these parts may do other tasks besides function as part of the firewall. Your Internet connection is almost always part of your firewall. Even if you have a firewall in a box, it isn't going to be neatly separable from the rest of your site; it's not something you can just drop in.
We've compared a firewall to the moat of a medieval castle, and like a moat, a firewall is not invulnerable. It doesn't protect against people who are already inside; it works best if coupled with internal defenses; and, even if you stock it with alligators, people sometimes manage to swim across. A firewall is also not without its drawbacks; building one requires significant expense and effort, and the restrictions it places on insiders can be a major annoyance.
Given the limitations and drawbacks of firewalls, why would anybody bother to install one? Because a firewall is the most effective way to connect a network to the Internet and still protect that network. The Internet presents marvelous opportunities. Millions of people are out there exchanging information. The benefits are obvious: the chances for publicity, customer service, and information gathering. The popularity of the information superhighway is increasing everybody's desire to get out there. The risks should also be obvious: any time you get millions of people together, you get crime; it's true in a city, and it's true on the Internet. Any superhighway is fun only while you're in a car. If you have to live or work by the highway, it's loud, smelly, and dangerous.
How can you benefit from the good parts of the Internet without being overwhelmed by the bad? Just as you'd like to drive on a highway without suffering the nasty effects of putting a freeway off-ramp into your living room, you need to carefully control the contact that your network has to the Internet. A firewall is a tool for doing that, and in most situations, it's the single most effective tool for doing that.
There are other uses of firewalls. For example, they can be used as firewalls in a building that divide parts of a site from each other when these parts have distinct security needs (and we'll discuss these uses in passing, as appropriate). The focus of this book, however, is on firewalls as they're used between a site and the Internet.
Firewalls offer significant benefits, but they can't solve every security problem. The following sections briefly summarize what firewalls can and cannot do to protect your systems and your data.
Firewalls can do a lot for your site's security. In fact, some advantages of using firewalls extend even beyond security, as described below.
Firewalls offer excellent protection against network threats, but they aren't a complete security solution. Certain threats are outside the control of the firewall. You need to figure out other ways to protect against these threats by incorporating physical security, host security, and user education into your overall security plan. Some of the weaknesses of firewalls are discussed below.
Until recently, if a site wanted a firewall, they had little choice but to design and build it themselves (perhaps with their own staff, or perhaps by hiring a consultant or contractor). Over the last few years, however, more and more commercial firewall offerings have reached the market. These products continue to grow in number and functionality at an astounding rate, and many sites may find that one of these products suits their needs.
In deciding whether or not a particular commercial firewall product will meet your needs, you have to understand what your needs are. Even if you decide to buy a firewall, you still need to understand a fair bit about how they're built and how they work in order to make an informed purchasing decision. Many sites spend as much or more effort evaluating commercial firewall products as they would building their own firewall.
We're not saying that nobody should buy a firewall, or that everybody should build their own. Our point is merely that it's not necessarily any easier to buy than it is to build; it all depends on your particular situation, and what resources you have at your disposal. Sites with money to spend but little staff time or expertise available often find buying an attractive solution, while sites with expertise and time but little money often find building more attractive.
Just what expertise do you need to design and build your own firewall? Like everything else, it depends; it depends on what services you want to provide, what platforms you're using, what your security concerns are, and so on. To install most of the tools described in this book, you need basic Internet skills to obtain the tools, and basic system administration skills to configure, compile, and install them. If you don't know what those skills are, you probably don't have them; you can obtain them, but that's beyond the scope of this book.
Some people feel uncomfortable using software that's freely available on the Internet, particularly for security-critical applications. We feel that the advantages outweigh the disadvantages. You may not have the "guarantees" offered by vendors, but you have the ability to inspect the source code and to share information with the large community that helps to maintain the software. In practice, vendors come and go, but the community endures. The packages we discuss in this book are widely used; many of the largest sites on the Internet base their firewalls on them. These packages reflect years of real-life experience with the Internet and its risks.
Furthermore, while it's perfectly possible to build a firewall consisting solely of freely available software, there's no reason to feel that it's all or nothing; freely available tools provide a valuable complement to purchased solutions. Buying a firewall shouldn't make you reluctant to supplement with freely available tools, and building one shouldn't make you reluctant to supplement with purchased tools. Don't rule out a product just because it's commercial, or just because it's freely available. Truly excellent products with great support appear in both categories, as do poorly thought out products with no support.