To understand packet filtering, you first have to understand packets and how they are handled at each layer of the TCP/IP protocol stack:
Application layer (e.g., FTP, Telnet, HTTP)

Transport layer (TCP or UDP)

Internet layer (IP)

Network access layer (e.g., Ethernet, FDDI, ATM)
Packets are constructed in such a way that layers for each protocol used for a particular connection are wrapped around the packets, like the layers of skin on an onion.
At each layer, a packet has two parts: the header and the body. The header contains protocol information relevant to that layer, while the body contains the data for that layer which often consists of a whole packet from the next layer in the stack. Each layer treats the information it gets from the layer above it as data, and applies its own header to this data. At each layer, the packet contains all of the information passed from the higher layer; nothing is lost. This process of preserving the data while attaching a new header is known as encapsulation.
At the application layer, the packet consists simply of the data to be transferred (for example, part of a file being transferred during an FTP session). As it moves to the transport layer, the Transmission Control Protocol (TCP) or the User Datagram Protocol (UDP) preserves the data from the previous layer and attaches a header to it. At the next layer, IP considers the entire packet (consisting now of the TCP or UDP header and the data) to be data, and now attaches its own IP header. Finally, at the network access layer, Ethernet or another network protocol considers the entire IP packet passed to it to be data, and attaches its own header. Figure 6.2 shows how this works.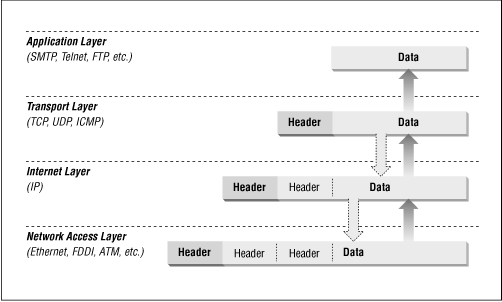 At the other side of the connection, this process is reversed. As the data is passed up from one layer to the next higher layer, each header (each skin of the onion) is stripped off by its respective layer. For example, the Internet layer removes the IP header before passing the encapsulated data up to the transport layer (TCP or UDP).
In trying to understand packet filtering, the most important information from our point of view is in the headers of the various layers. The sections below look at several examples of different types of packets and show the contents of each of the headers that packet filtering routers will be examining. We assume a certain knowledge of TCP/IP fundamentals, and concentrate on discussing the particular issues related to packet filtering. For a detailed introduction to TCP/IP, see Appendix C.
In the discussion below, we start with a simple example demonstrating TCP/IP over Ethernet. From there, we go on to discuss IP's packet filtering characteristics, then protocols above IP (such as TCP, UDP, ICMP, and RPC), protocols below IP (such as Ethernet), and finally non-IP protocols (such as AppleTalk or IPX).