The Internet Protocol is the glue that holds together modern computer networks. IP specifies the way that messages are sent from computer to computer; it essentially defines a common "language" that is spoken by every computer stationed on the Internet.
This section describes IPv4, the fourth version of the Internet Protocol, which has been used on the Internet since 1982. As this book is going to press, work is continuing on IPv6, previously called "IP: The Next Generation," or IPng. (IPv5 was an experimental protocol that was never widely used.) We do not know when (or if) IPv6 will be widely used on the network.
As we said earlier, at a very abstract level the Internet is similar to the phone network. However, as we look more closely at the underlying protocols, we find that it is quite different. On the telephone network, each conversation is assigned a circuit (either a pair of wires or a channel on a multiplexed connection) that it uses for the duration of the telephone call. Whether you talk or not, the channel remains open until you hang up the phone.
On the Internet, the connections between computers are shared by all of the conversations. Data is sent in blocks of characters called datagrams, or more colloquially, packets. Each packet has a small block of bytes called the header, which identifies its sender and intended destination on each computer. The header is followed by another, usually larger, block of characters of data called the packet's contents. (See Figure 16.3.) After the packets reach their destination, they are often reassembled into a continuous stream of data; this fragmentation and reassembly process is usually invisible to the user. As there are often many different routes from one system to another, each packet may take a slightly different path from source to destination. Because the Internet switches packets, instead of circuits, it is called a packet-switching network.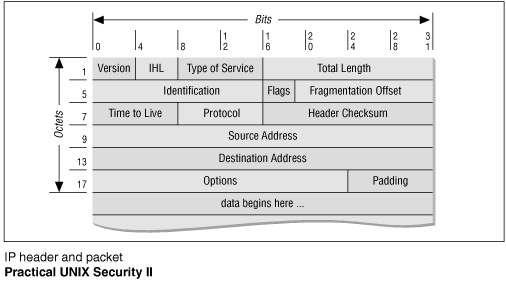 We'll borrow an analogy from Vint Cerf, one of the original architects of the ARPANET: think of the IP protocol as sending a novel a page at a time, numbered and glued to the back of postcards. All the postcards from every user get thrown together and carried by the same trucks to their destinations, where they get sorted out. Sometimes, the postcards get delivered out of order. Sometimes, a postcard may not get delivered at all, but you can use the page numbers to request another copy. And, key for security, anyone in the postal service who handles the post cards can read the contents without the recipient or sender knowing about it.
There are three distinct ways to directly connect two computers together using IP:
The computers can all be connected to the same local area network. Two common LANS are Ethernet and token ring. Internet packets are then encapsulated within the packets used by the local area network.[4]

Two computers can be directly connected to each other with a serial line. IP packets are then sent using either SLIP (Serial Line Internet Protocol), CSLIP (Compressed SLIP), or PPP (Point-to-Point Protocol). If both computers are each in turn connected to a local area network, the telephone link will bridge together the two LANS. (See Figure 16.4.)

The IP packets can themselves be encapsulated within packets used by other network protocols. Today, many 56K "leased lines" are actually built by encapsulating IP packets within Frame Relay packets. Within a few years, IP may be commonly encapsulated within ATM (Asynchronous Transfer Mode) networks.[5]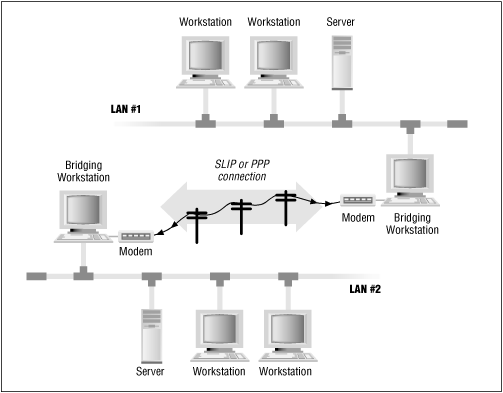 IP is a scalable network protocol: it works as well with a small office network of ten workstations as it does with a university-sized network supporting a few hundred workstations, or with the national (and international) networks that support tens of thousands of computers. IP scales because it views these large networks merely as collections of smaller ones. Computers connected to a network are called hosts. Computers that are connected to two or more networks can be programmed to forward packets automatically from one network to another; today, these computers are called routers (originally they were called gateways). Routers use routing tables to determine where to send packets next.