RIP also deletes routes from the routing table. It accomplishes this in two ways. First, if the gateway to a destination says the cost of the route is greater than 15, the route is deleted. Second, RIP assumes that a gateway that doesn't send updates is dead. All routes through a gateway are deleted if no updates are received from that gateway for a specified time period. In general, RIP issues routing updates every 30 seconds. In many implementations, if a gateway does not issue routing updates for 180 seconds, all routes through that gateway are deleted from the routing table.
To run RIP using the routing daemon (routed), [10] enter the following command:
# routed
The routed statement is often used without any command-line arguments, but you may want to use the -q option. The -q option prevents routed from advertising routes. It just listens to the routes advertised by other systems. If your computer is not a gateway, you should probably use the -q option.
In the section on static routing we commented out the routed statement found in a startup file. If that statement is in your startup file, no other action is required to run RIP; just boot your system and RIP will run. Otherwise, add the routed command to your startup.
routed reads /etc/gateways at startup and adds its information to the routing table. routed can build a functioning routing table simply by using the RIP updates received from the RIP suppliers. However, it is sometimes useful to supplement this information with, for example, an initial default route or information about a gateway that does not announce its routes. The /etc/gateways file stores this additional routing information.
The most common use of the /etc/gateways file is to define an active default route, so we'll use that as an example. This one example is sufficient because all entries in the /etc/gateways file have the same basic format. On peanut, the following entry specifies almond as the default gateway:
net 0.0.0.0 gateway 172.16.12.1 metric 1 active
The entry starts with the keyword net. All entries start with the keyword net or the keyword host to indicate whether the address that follows is a network address or a host address. The destination address 0.0.0.0 is the address used for the default route. In the route command we used the keyword default to indicate this route, but in /etc/gateways the default route is indicated by network address 0.0.0.0.
Next is the keyword gateway followed by the gateway's IP address. In this case it is the address of almond (172.16.12.1).
Then comes the keyword metric followed by a numeric metric value. The value, which is called the metric, is the cost of the route. The metric was almost meaningless when used with static routing. Now that we are running RIP, the metric is actually used to make routing decisions. The RIP metric represents the number of gateways through which data must pass to reach its final destination. But as we saw with ifconfig, the metric is really an arbitrary value used by the administrator to prefer one route over another. (The system administrator is free to assign any metric value.) However, it is useful to vary the metric only if you have more than one route to the same destination. With only one gateway to the Internet, the correct metric to use for almond is 1.
All /etc/gateways entries end with either the keyword passive or the keyword active. "Passive" means the gateway listed in the entry is not required to provide RIP updates. Use passive to prevent RIP from deleting the route if no updates are expected from the gateway. A passive route is placed in the routing table and kept there as long as the system is up. In effect, it becomes a permanent static route.
The keyword active, on the other hand, creates a route that can be updated by RIP. An active gateway is expected to supply routing information and will be removed from the routing table if, over a period of time, it does not provide routing updates. Active routes are used to "prime the pump" during the RIP startup phase, with the expectation that the routes will be updated by RIP when the protocol is up and running.
Our sample entry ends with the keyword active, which means that this default route will be deleted if no routing updates are received from almond. Default routes are convenient; this is especially true when you use static routing. But when you use dynamic routing, default routes should be used with caution, especially if you have multiple gateways that can reach the same destination. A passive default route prevents the routing protocol from dynamically updating the route to reflect changing network conditions. Use an active default route that can be updated by the routing protocol.
RIP is easy to implement and simple to configure. Perfect! Well, not quite. RIP has three serious shortcomings:
Limited network diameter

The longest RIP route is 15 hops. A RIP router cannot maintain a complete routing table for a network that has destinations more than 15 hops away. The hop count cannot be increased because of the second shortcoming.

Slow convergence

Deleting a bad route sometimes requires the exchange of multiple routing update packets until the route's cost reaches 16. This is called "counting to infinity," because RIP keeps incrementing the route's cost until it becomes greater than the largest valid RIP metric. (In this case, 16 is infinity.) Additionally, RIP may wait 180 seconds before deleting the invalid routes. In network-speak, we say that these conditions delay the "convergence of routing"; i.e., it takes a long time for the routing table to reflect the current state of the network.

Classful routing

RIP interprets all addresses using the class rules described in Chapter 2. For RIP all addresses are class A, B, or C, which makes RIP incompatible with CIDR supernets and incapable of supporting variable-length subnets.
Nothing can be done to change the limited network diameter. A small metric is essential to reduce the impact of counting to infinity. However, limited network size is the least important of RIP's shortcomings. The real work of improving RIP concentrates on the other two problems, slow convergence and classful routing.
Features have been added to RIP to address slow convergence. Before discussing them we must understand how the "count-to-infinity" problem occurs. Figure 7.2 illustrates a network where a counting-to-infinity problem might happen.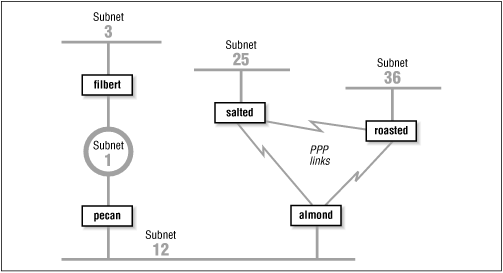 Figure 7.2 shows that almond reaches subnet 3 through pecan and then through filbert. Subnet 3 is 2 hops away from almond and 1 hop away from pecan. Therefore pecan advertises a cost of 1 for subnet 3 and almond advertises a cost of 2, and traffic continues to be routed through pecan. That is, until something goes wrong. If filbert crashes, pecan waits for an update from filbert for 180 seconds. While waiting, pecan continues to send updates to almond that keep the route to subnet 3 in almond's routing table. When pecan's timer finally expires, it removes all routes through filbert from its routing table, including the route to subnet 3. It then receives an update from almond advertising that almond is 2 hops away from subnet 3. pecan installs this route and announces that it is 3 hops away from subnet 3. almond receives this update, installs the route, and announces that it is 4 hops away from subnet 3. Things continue on in this manner until the cost of the route to subnet 3 reaches 16 in both routing tables. If the update interval is 30 seconds, this could take a long time!
Split horizon and poison reverse are two features that attempt to avoid counting to infinity. Here's how:
Split horizon

With this feature, a router does not advertise routes on the link from which those routes were obtained. This would solve the count-to-infinity problem described above. Using the split horizon rule, almond would not announce the route to subnet 3 on subnet 12 because it learned that route from the updates it received from pecan on subnet 12. While this feature works for the example described above, it does not work for all count-to-infinity configurations. (More on this later.)

Poison reverse

This feature is an enhancement of split horizon. It uses the same idea: "Don't advertise routes on the link from which those routes were obtained." But it adds a positive action to that essentially negative rule. Poison reverse says that a router should advertise an infinite distance for routes on this link. With poison reverse, almond would advertise subnet 3 with a cost of 16 to all systems on subnet 12. The cost of 16 means that subnet 3 cannot be reached through almond.
Split horizon and poison reverse solve the problem described above. But what happens if almond crashes? Refer to Figure 7.2 With split horizon, salted and roasted do not advertise to almond the route to subnet 12 because they learned the route from almond. They do, however, advertise the route to subnet 12 to each other. When almond goes down, salted and roasted perform their own count to infinity before they remove the route to subnet 12. Triggered updates address this problem.
Triggered updates are a big help. Instead of waiting the normal 30-second update interval, a triggered update is sent immediately. Therefore, when an upstream router crashes or a local link goes down, immediately after the router updates its local routing table, it sends the changes to its neighbors. Without triggered updates, counting to infinity can take almost 8 minutes! With triggered updates, neighbors are informed in a few seconds. Triggered updates also use network bandwidth efficiently. They don't include the full routing table; they include only the routes that have changed.
Triggered updates take positive action to eliminate bad routes. Using triggered updates, a router advertises the routes deleted from its routing table with a infinite cost to force downstream routers to also remove them. Again, look at Figure 7.2 If almond crashes, roasted and salted wait 180 seconds and remove the routes to subnets 1, 3, and 12 from their routing tables. They then send each other triggered updates with a metric of 16 for subnets 1, 3, and 12. Thus they tell each other that they cannot reach these networks and no count to infinity occurs. Split horizon, poison reverse, and triggered updates go a long way to eliminating counting to infinity.
It is the final shortcoming - the fact that RIP is incompatible with CIDR supernets and variable-length subnets - that caused the RIP protocol to be moved to "historical" status in 1996. RIP is not compatible with current and future plans for the TCP/IP protocol stack. A new version of RIP had to be created to address this final problem.