The services that we're going to provide through these sample firewalls are just the basics: terminal access, file transfer, electronic mail, Usenet news, the World Wide Web, and DNS. See Chapter 8, Configuring Internet Services for a full discussion of these and other services.
The screened subnet architecture, described in Chapter 4, Firewall Design and shown in Figure 9.1, is probably the most common do-it-yourself firewall architecture. This architecture provides good security (including multiple layers of redundancy) at what most sites feel is a reasonable cost.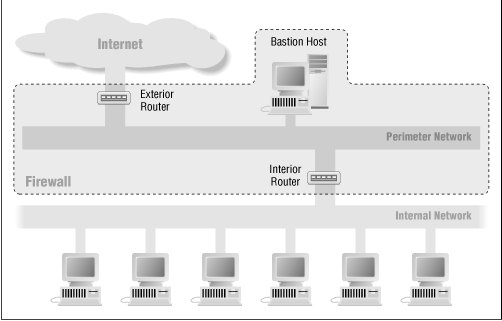 There are two-router and single-router variations of the screened subnet architecture. Basically, you can use either a pair of two-interface routers or a single three-interface router. The single-router screened subnet architecture works about as well as the two-router screened subnet architecture, and is often somewhat cheaper. However, you need to use a router that can handle both inbound and outbound packet filtering on each interface. (See the discussion of this point in Chapter 6, Packet Filtering.) We're going to use a two-router architecture as our example in this section because it is conceptually simpler.
The components of this type of firewall include the following:
Perimeter network

Exterior router

Interior router

Bastion host
Let's review briefly the purposes of these various components, presented originally in Chapter 4.
Perimeter network

Isolates your bastion host from your internal network, so a security breach on the bastion host won't immediately affect your internal network.

Exterior router

Connects your site to the outside world. If possible, the exterior router also provides at least some protection for the bastion host, interior router, and internal network. (This isn't always possible, because some sites use exterior routers that are managed by their network service providers and are therefore beyond the site's control.)

Interior router

Protects the internal network from the world and from the site's own bastion host.

Bastion host

Serves as the site's main point of contact with the outside world. (It should be set up according to the guidelines in Chapter 5, Bastion Hosts.)
In addition to the machines that make up the firewall itself, assume there are machines on the internal network (internal hosts) that fulfill the following roles. (Note that any given internal machine might fill any, or even all, of these roles.)
Each of these internal services is provided directly (via packet filtering) or indirectly (via proxy servers running on the bastion host).
We're going to assume (at least for the purposes of this example) that internal users in our system are trusted not to actively try to circumvent the firewall, and that there is no particular need to monitor or log their Internet activities.
We're also going to assume that you are using properly assigned and routed IP addresses (that is, addresses assigned to your site, and properly routed and advertised to the rest of the Internet by your service provider) for your internal and perimeter networks. If you aren't, you have no choice but to use proxies, because you can't allow packets with those unassigned IP addresses out onto the Internet; even if you did, replies would have no way to come back to you.
Finally, we're going to assume you're using separate network numbers for your perimeter net and internal net, so that you can detect forged packets easily. (See the discussion in "Risks of Filtering by Source Address" in Chapter 6.)