The screened host architecture, described in Chapter 4 and shown in Figure 9.2, is a lower-security, lower-cost alternative to the screened subnet architecture discussed in the previous sections. The screened host architecture is often used by very small sites that are facing significant cost constraints.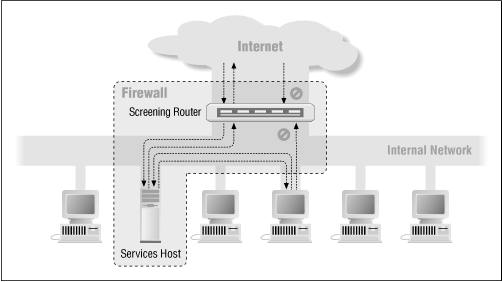 In a screened host architecture, there is no perimeter net, no interior router, and often no bastion host per se. (Obviously, there is a host that the outside world talks to, but this host is often not dedicated solely to that task.) What you have instead is a single router (most analogous to the exterior router in the dual-router screened subnet architecture) and a services host that provides Internet services to internal and external clients (and is often used for other tasks as well).
The router is there to protect and control access to the internal net, and the services host is there to interact with the outside world, much like a bastion host. We call it a services host, rather than a bastion host, because it's often fulfilling many other roles. For example, it's probably the mail server, Usenet news server, and DNS server for the site; it might possibly be a file server, print server, and so on, as well; it might even be the only machine the site has.
In this example, we're going to assume:
That the services host is the site's mail server, news server, and DNS server, but that it's not the only machine at the site.

As in the previous example, that internal users are trusted not to actively try to circumvent the firewall, and that we have no particular need to monitor or log their Internet activities.

Also as in the previous example, that you're using proper IP addresses: addresses that have been properly assigned to your site and that are being properly routed and advertised to the rest of the Internet by your service provider.